Pocantico Hills Tennis Courts & Generator Projects
As school continues to move along, so does progress on the improvements to the District's tennis courts and new emergency generator. In June, the Pocantico Hills community approved a $1.73 million project to rebuild the tennis courts in a sustainable way and replace the school's diesel generator, both unusable at the time.

In 1993, 20 years after the tennis courts were constructed, the facility was determined to be in need of replacement due to improper site design that led to drainage problems and structural deterioration. In 2020, conditions have only gotten worse and the courts were closed due to safety concerns.

Now, thanks to the support of the community we are able to restore and revitalize the complex. The new tennis courts will feature four new tennis/pickleball courts, a futsal court, and a new parking lot. The area will be finished with all new LED lighting and fencing as well.

Site design of the courts have been completed and are set to be approved by New York State by November with construction to begin in December of this year.

The tennis courts are planned to be completed in summer 2021.

"The Pocantico athletic community is very excited about the tennis court project," Athletic Director Emma Goodman said. "The new courts will provide a space for a community members to come together for outdoor exercise. We are looking forward to a vibrant use of this beautiful space."

The generator will be completed in Fall 2021 and will enable the District to keep the school running at all times. In the event of an emergency, the District could serve as a shelter for the community.

Throughout the campus, energy saving building improvements, including all new LED lighting and modern utility controls, will be added as part of an Energy Performance Contract (EPC). The EPC allows for the District to cover the costs of energy efficiency upgrades by using the savings generated by these upgrades. The energy savings and incentives offered by New York State will end up saving the District more than it initially spends, in addition to lowering tax rates over time. The initial estimate shows that the school could cut it's energy costs by at least 61% with this project.
Tennis Courts Project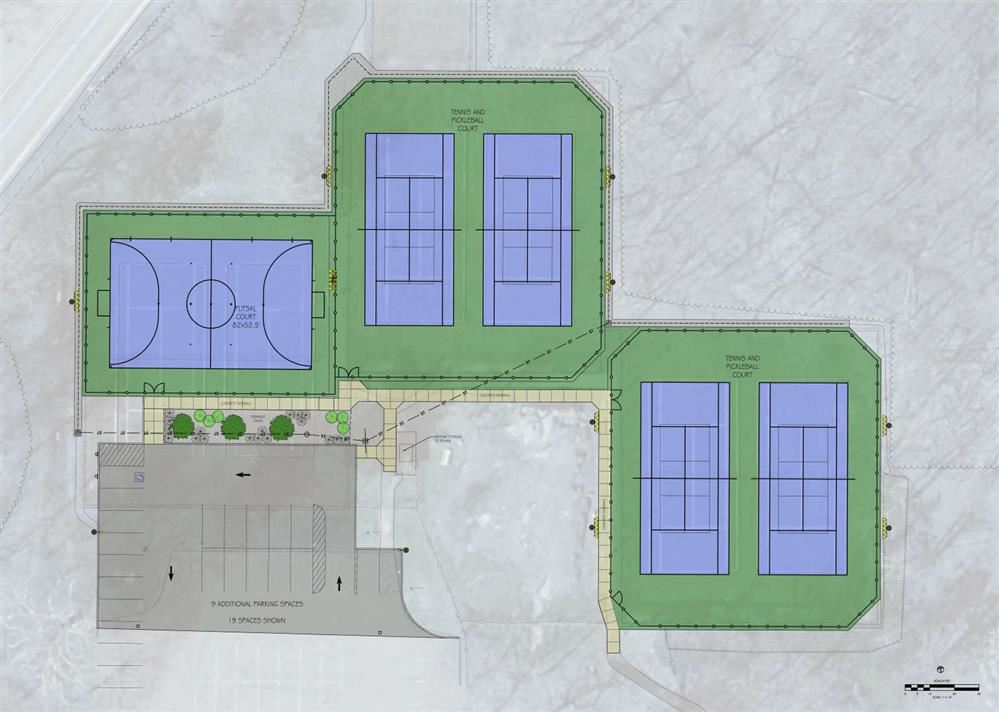 The New Tennis Courts Will Include
Four new tennis/pickeball courts
A fútsal court. Fútsal is a fast-paced, soccer-style game played on a hard court. In addition, the possibility exists to add other court linings – such as four square, shuffleboard, basketball and even a winter ice rink – to create a true multi-generational facility.
Address underlying site/drainage issues to rebuild courts sustainably.
New lighting and fencing.
10 new visitor parking spaces.
Project Schedule

Tennis Court Existing Conditions